C# Development Outsourcing Company in Argentina
---
We are a C# software outsourcing company based in Argentina. We offer high quality C# development services, and we also provide dedicated development teams and staff augmentation services.
We have a team of experienced C# developers capable of creating secure, cost-effective and scalable software solutions, from simple components or prototypes to complex enterprise applications, websites or APIs.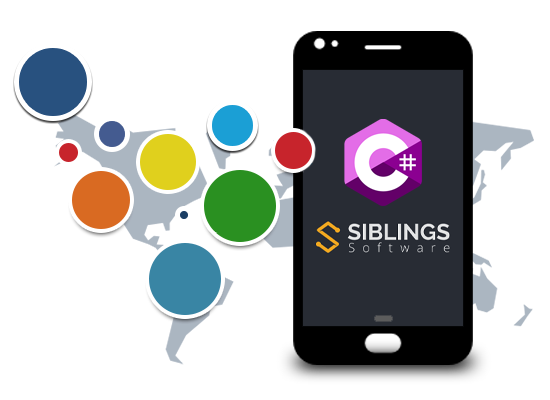 C# Development Services
We offer high quality C# development outsourcing services to clients worldwide.
With a strong and experienced team of expert C# developers, we offer development outsourcing services for all types of software solutions using the C# framework.
C# App
Development Outsourcing
C# Web

Development Outsourcing
C# API

Development Outsourcing
Hire C# Development Teams And C# Developers
Matched with your industry, technology and company culture.
Do you want to outsource C# development?
If you need to outsource C# development we can help you.
Custom C# Software Development
If you need to outsource your C# project, we can help you.
Redefining C# software outsourcing experience.
Why choose us?
We design fast, beautiful and secure C# software solutions.
Fast Development
We transform your idea into software, fast. We have experienced C# developers and a refined process that allows us to create or modify functionalities quickly.
Simplicity
We know the importance of creating intuitive and simple to use software solutions, and our specialized C# developers are focused on this.
Quality
We create software that works. Our software solutions go through strict quality review processes.
C# Development Outsourcing
Why outsource C# development?
Benefits of C# Development Outsourcing
Cost Reduction
Outsourcing development reduces or avoids infrastructure and employee costs, such as hiring, training and retention.
Expertise
Outsourcing software development allows access to highly experienced talent with extensive knowledge of C# and agile methodologies.
Risk Mitigation
Outsourcing allows transferring to the contracted company the management of the risks inherent to any software project.
Team
Outsourcing allows you to have qualified and updated personnel that will be supported by the rest of the outsourcing company's team.
Productivity
Hiring outsourced software development experts will allow you to focus on your core business processes, which will increase your productivity and profitability.
Scalability
Outsourcing provides the flexibility to meet unexpected opportunities and challenges, as well as expansion processes.
Nearshore And Offshore C# Outsourcing
Nearshore C# Outsourcing
We offer nearshore C# software development services for companies in the United States and Canada.
By having teams geolocated in Argentina, we can provide services in the same time zone as the North American countries, enhancing the communication and fluency of the projects.
Offshore C# Outsourcing
We also offer offshore C# software development services for companies in Europe and the UK.
In these cases, we adapt the work schedules of our teams to favor the best communication and fluidity of the project.
Turn your idea into a C# solution, fast.
Our specialists will create a customized C# solutions that perfectly fits your idea.
Siblings Software's C# development outsourcing team consists of highly skilled and trained professionals who will help you create your C# solution in the fastest and most cost-effective way.
Why C#?
C# is one of the most popular programming languages in the world and is is a standard choice for Windows applications because of the native support for .NET. C# can be used to create desktop applications and web applications, but is particularly strong at building Windows desktop applications.
The technology partner for growing businesses.
Industries
We serve multiple industries, globally.
Our goal is to help businesses harness the power of C# technology by creating unique user experiences.
Choose us as your
C# Development Company
in Argentina
Argentina C# Development Company
We're an top-notch US C# development company, focused on providing robust, scalable and efficient C# outsourcing solutions to clients around the world.
Frequently Asked Questions
C# is an object-oriented programming language that allows developers to create efficient, secure and robust applications that run on .NET.
The outsourcing of C# development consists of hiring an external company that provides professionals specialized in software development with C#.
Of course, the cost will depend on the characteristics of the C# software you want to create. Our specialists will help you estimate the cost of your project for free, contact us!
The time to create an C# software depends on many aspects, mainly on the characteristics of the C# software to be created and the budget of the project, according to which more or less developers can be assigned.